Please visit our CATALOG to purchase Dog Tags
Dog Tag Report 09/18/2004
We thought you might find this interesting.

Let us (Kobie and I) tell you a little story that happened to us this weekend.

Kobie and I were set up at a gun show (in Mesquite, TX) selling dog tags and can openers at our DogTagsRus booth.

www.dogtagsrus.com - updated and revised September 15, 2004.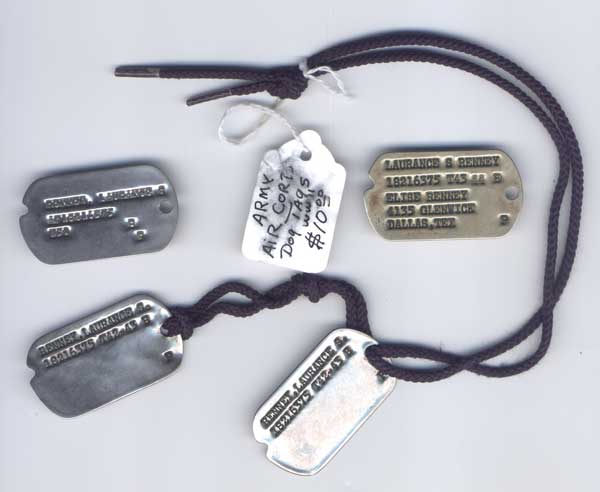 A man walked by with a set of dog tags. The man showed them to Kobie and I and tried to sell them to us. Now we don't normally purchase pre-printed dog tags but . . . There was something interesting about these particular tags.

What was interesting about these dog tags was they were actual WWII and Korean issue dog tags. WWII and Korean? Yes, there were a total of 4 identification tags. Two from WWII and two from Korea.

How did we know they were actual dog tags and not reproductions?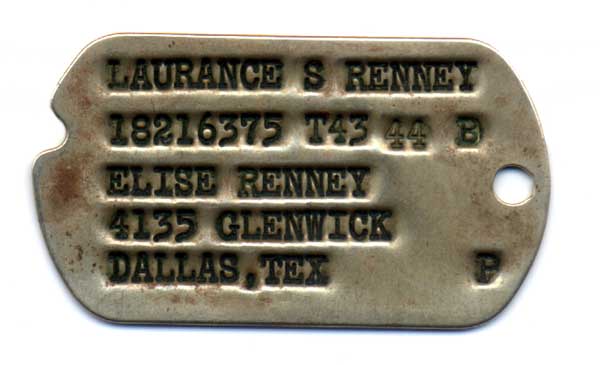 In WWII if they had enough room they would put your "next of kin" on the dog tags. The condition and patina of these dog tags was the second indicator as they were worn and appeared to have the wear of 60+ years that could not be duplicated.

But the #1 reason we knew these tags were originals and not reproduction was the address on the dog tags for the "next of kin." It was in Dallas, Texas - more specifically it was in University Park.
---
This particular set of dog tags read as follows:

Tag #1

LARUANCE S. RENNEY
18216375 T43 - 44 B
ELSIE RENNEY
4135 GLENWICK
DALLAS, TEX P

Definitions:
LARUANCE S. RENNEY - The man's name
"18216375" - this was Mr. Renney's issued military serial number
"T43-44" - this is when Mr. Renney received his tetnas shots
"B" - was his blood type
ELISE RENNEY - this was Laruance's mother
4135 GLENWICK, DALLAS, TEX was Mr. Renney's mother's address in University Park, TX
"P" - Mr. Renney as Prodestant.

Tag #2

RENNEY, LAURANCE S.
AF18216375
T50 B
P

Definitions:
RENNEY, LAURANCE S. - Mr. Renney's name correct format for the Korean War.
AF18216375 - "AF" meant he served in the United States Air Force, "18216375" was Mr. Renney's military serial number.
"T50" - Mr. Renney received a Tetnas shot in 1950, "B" - Mr. Renney's blood type was B
"P" - Mr. Renney was a Prodestant
---
We asked the man selling the dog tags - "did it ever occur to you to get the white pages or use the Internet to look and see if this man or his family was still around or still in the Dallas area? They might want to have these dog tags back."

The seller told us, "They can have them if they want to buy them!"

When asked where he got them, the man said that he had come by the dog tags when he bought a box of junk some years ago.

This was just wrong - totally wrong . . . so Kobie took the money out of the register and bought them from the man.

We really did not have the extra funds to buy the tags, but Kobie said he felt it was wrong to sell them so we agreed to buy them and get them off the market.

15 minutes on the Internet searching the Dallas County Appraisal District records, a Dallas area map and the Dallas White Pages was all Kobie and I needed to locate the man's surviving family.

The house on Glenwick is in University Park, it is still there. The Renney family sold that house in the mid 1950's and moved to Garland, TX., and still maintains property there.

Mr. Renney served in WWII with the Army Air Corps., then in Korea with the United States Air Force.

Mr. Laurance S. Renney is now departed, he passed in early 2004. He survived his wife and had no children. There are other kin folks that have expressed an interest in having the dog tags back.

Guess what - the tags will be on their way to the family later this week. Mr. Renny though no longer with us still has a cousin that is living.
---
Insites into the man - Mr. Renney:

Mr. Renney's Father:

May 5, 1952

Funeral services for James P. Renney, Dallas resident for fifty years and operator of an independent nursery and landscaping business, will be held at 11:30 a.m. Monday in Weiland-Merritt Funeral Chapel, 2909 Live Oak.

The Rev. Fisk Ray, assistant pastor of Park Cities Baptist Church, will conduct the services. Burial will be in Hillcrest Memorial Park.

Renney died unexpectedly of a heart attack Saturday at his home, 4135 Glenwick Lane. Renney, native of Terrell, was sixty-nine last Tuesday.

Renney was employed for several years as a salesman for Huey & Philp Hardware Company and for Arthur A. Everts Jewelry Company. From 1925 until 1933 he was secretary and treasurer of the Laundry Board of Trade of Dallas. During World War II he worked in the parts department at Southwest Airmotive Company.

Renney is survived by his wife, Elise Renney and one son, Master Sgt. Laurance Renney, Donaldson Air Force Base, Greenville, S.C.
---
Mr. Renney's Mother.

October 02, 1968

Mrs. Elsie C. Renney
Funeral services for Mrs. Elise C. Renney, 73, of 202 E. Chico, Garland, a former Dallas resident, will be held at 10 a.m. Wednesday in the Weiland-Merritt Funeral Chapel. Burial will be in Hillcrest Memorial Park.

Mrs. Renney died in Garland Monday.

A native of Vadalia, LA., she had been a Garland resident for the last 10 years.

She is survived by a son, Laurance S. Renney of Garland.
---
Dallas Morning News Article
"23 promoted at Love Field"
February 07, 1943

Four Dallas commissioned officer and nineteen enlisted men were included in a list of promotions posted Saturday by Col. Thomas D. Ferguson, commanding the Fifth Ferrying Group, Love Field.

Promotions in noncommissioned grades were: To corporal, Laurance S. Renney.
---
Letter to the Dallas Morning News April 30, 1947

RECKLESS MOTORMEN

To The News:
Regarding a letter from Mr. A. F. Marlowe, a streetcar operator, protesting the recklessness of motorists, I will make Mr. Marlowe a deal: Let him turn in the license numbers of the autos zooming past stopped streetcars and I'll turn in the numbers of the streetcars which run red lights after the lights have definitely turned red against them. I've got a perfect corner to start with - Hillcrest and Mockingbird Lane.
Laurance S. Renney
4135 Glenwick Lane, Dallas 15.
---

News article about Mr. Renney and Photograph of him. April 30, 1948
To review the Story and photograph click on the thumbnail to the left. Photo is hard to see we hope to update this with a better copy at a later date.
Article is from the Dallas Morning news.
---
Here is an article in which Mr. Renney expressed his thoughts about the giant hole at Cole and Lemmon in Dallas, TX.

In January 1987 the Dallas Morning News ran a contest asking for suggestions on what to do with the Giant 90' deep hole located at Cole and Lemmon Ave. This hole was the result of a defunct building project that never got completed. The hole was an eye sore and had filled with water making it a public hazard. Many people chimed in with suggestions as well as Mr. Renney. Here is what Mr. Renney had to say.

As for the "Hole at Cole," I propose a street level park, covering a underground mall. There was a photograph of Mr. Cole illustrating his suggestion. Kobie and I were not able to obtain a clean copy of the photograph.
---
Here is what Mr. Renney had to say in a letter to the Dallas Morning News about the Dallas Technical High School.

Crozier memories

My wife Margaret and I went to Crozier Tech and graduated in the 1930s.The name of the school at that time was Dallas Technical High School, and it was called "Tech High" by the students. We wonder if anyone else remembers this: Tech Wolves football team or the Technocrat, the school newspaper?

Your Monday editorial, "Crozier Tech - City should save old Dallas High School," has brought on this note just to let you know that there are still a few of us around who remember "Tech" as being more than just a piece of real estate that may make someone a buck or two.

Laurance S. Renney, Garland
May 25, 2003
---
Mr. Renney survived his wife Margaret, here is her information.

Renney, MARGARET FRANCES. Born November 14, 1915, passed away October 8, 2003. She made a career of the insurance business. Margaret married Laurance S. Renney in 1957. Survived by husband; two sisters, Mary Edwards and Florence Evans; 2 nieces and 2 nephews. Graveside services will be held, 11:00 AM, Saturday, October 11, 2003, Hillcrest Memorial Park. Dignity Memorial Sparkman Hillcrest 7405 W. Northwest Hwy. Dallas (214) 363-5401
---

Mr. Renney passed on June 29, 2004.

RENNEY, LAURANCE SAMUEL "Jinx" RENNEY was born in Dallas, Texas on February 13, 1920 and died after a brief illness on June 29, 2004 at the age of 84. Known as "Jinx," the lifelong nickname given to him by his father because he was born on Friday the 13th, he served in the Air Force during World War II and the Korean War. Following the end of his military career, Jinx married Margaret Frances Hughes in 1957. He was an enthusiast for trains and a self-taught expert on classic American films of the 1930's, 40's, and 50's. More recently, he had written his memoirs, focusing on his military service in World War II and the Korean War. Jinx was preceded in death by his beloved wife of 46 years, Margie, and is survived by his cousin, Mary Jane James and her husband Jack James, his sisters-in-law, Mary E. Edwards and Florence J. Evans, assorted nieces, nephews and family members. The family will receive friends at the funeral home on Thursday, July 1 from 6-8 p.m. Graveside services will be held Friday, July 2 at 3:00 p.m. at Hillcrest Memorial Park. Dignity Memorial Sparkman Hillcrest 7405 W. Northwest Hwy. Dallas (214) 363-5401
Kobie and I feel that we would have loved to have actually known this man. The stories he could have told would be treasures themselves not to mention the insight, philosophy and wisdom Mr. Renney might have been able to offer. Kobie and I both love trains and Mr. Renney appears to have lived a rich and full life. Most off all we would have liked to have been able thank Mr. Renney for his dedicated and selfless service to our country by serving in two wars to help preserve our freedom. Mr. Renney will be sadly missed.
---
We thought this was interesting and that you might enjoy hearing about our findings.

It is amazing that we were able to gather all this information by purchasing some dog tags to keep them from being sold and traded in hopes of returning them to their rightful owner.
We encourage your feedback about this e-mail.
---

---
# # #